CrissCross Commercial Solutions is a group of real estate industry veterans that specialize in the full spectrum of real estate services. We provide custom designed programs to meet the needs of lenders and owners through property repositioning, work-out situations, asset management and marketing services necessary for successful completion or for increasing and/or maintaining an asset's value.
CrissCross Solutions and Sperry Van Ness have formed a National Alliance to provide residential and
commercial real estate solutions to its clients throughout the United States. The results are 500 markets being covered with on the ground resources available via 165 offices in 38 states; 1,250+ team members including 850 licensed and professional real estate practitioners available immediately through a single point of contact: "CrissCross | SVN".
With a leadership team of over 175 combined years of real estate experience, CrissCross Commercial Solutions provides a full range of development services including Leasing, Negotiations, Tenant Retention, Sales and Marketing, Property Management, Brokerage, and Auctions.

CrissCross Commercial Solutions is the operational platform that assists Financial Institutions and Investors to:
Protect and Preserve the Value of a Real Estate Asset(s)
Add Value to a Real Estate Asset(s)
Create Workout Solutions
Acquire a Real Estate Asset(s)
Dispose of a Real Estate Asset(s)
Form New Joint Ventures
And More...
Our team will analyze your specific commercial real estate asset(s) and assist you in determining the best course of action whether they are performing, non-performing or REO.
Click on the Map Below to See our locations across the United States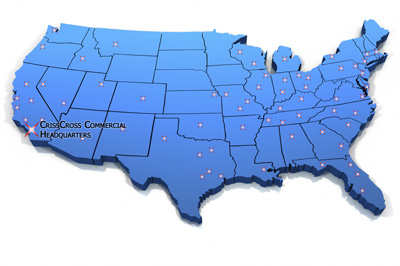 The key Regional offices under "CrissCross | SVN" are located strategically in the following cities:
California – Irvine, Los Angeles, San Diego, San Francisco, Oakland, Sacramento
Arizona – Phoenix, Tucson
Washington – Seattle
Colorado – Denver
Texas – Dallas, Houston, San Antonio
Nevada – Las Vegas
Oregon – Portland
Oklahoma – Oklahoma City
New Mexico - Albuquerque
Idaho – Boise
Illinois – Chicago
Utah – Salt Lake City
Solving Today's Real Estate Challenges, Creating Tomorrow's Opportunities